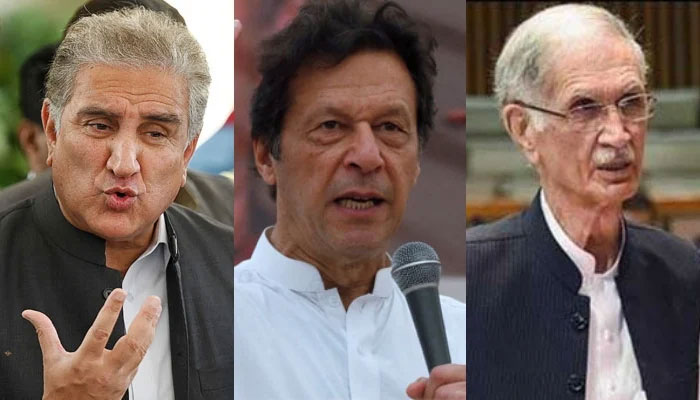 Pakistan Tehreek-e-Insaf (PTI) leader Pervez Khattak said Friday that the federal government should send them a 'written' invitation for the All Parties Conference (APC), schdelued for February 7, if they are serious.
Addressinng journalists outside PTI Chairman Imran Khan's residence in Zaman Park Lahore, the former Khyber Pakhtunkhwa Chief Minister said that, inviting them over phone calls is not the correct way. He asked the PDM government to give a clear policy on how the country will come out of the current quagmire.
"Establishment is trying to remain neutral but the government does not want that to happen," said Khattak.
The PTI KP President said that they are ready to hold dialogues with the federal government if they announce the election date. "But the government is not serious," he added.
Talking about the PDM leaders arrests and detention in the PTI era, the senior PTI leader said that they were not put in jail by the PTI government, they went to jail because of their deeds.
The former KP CM denied the news about the absence of a forensic laboratory in Khyber Pakhtunkhwa (KP), saying "there is a forensic laboratory in KP."
Qureshi calls to halt victimisation 
PTI Vice Chairman Shah Mehmood Qureshi said that on one side they are inviting them for the APC and on the other side, victimising PTI leaders.
Speaking to the press in Lahore, he said if the government wants to unite the nation, it should first stop victimisation of PTI leaders.
Qureshi added that the PDM's agenda is not compatible with the national agenda, and that the PDM government has completely failed.
PM invite 
Prime Minister (PM) Shehbaz Sharif Thursday invited PTI Chairman Imran Khan to an all-parties conference (APC) aimed at finding solutions to surmount the daunting economic and political crises.
The prime minister sought to bring heads of all political parties on the table so they can join heads and figure out ways to address "important national challenges", Information Minister Marriyum Aurangzeb said in a statement. The conference is set to take place in Islamabad on February 7.
The invitation was thought to be a major development as the PDM-led government and the PTI have always been at loggerheads over almost all national issues, since Khan's ouster from the PM Office.
The move comes as Pakistan faces a severe threat of terrorism and distressing economic and political situations, with no signs of respite soon.

The News International