Host of problems stemming from floods 'all but erase any progress toward stability that came with the IMF aid'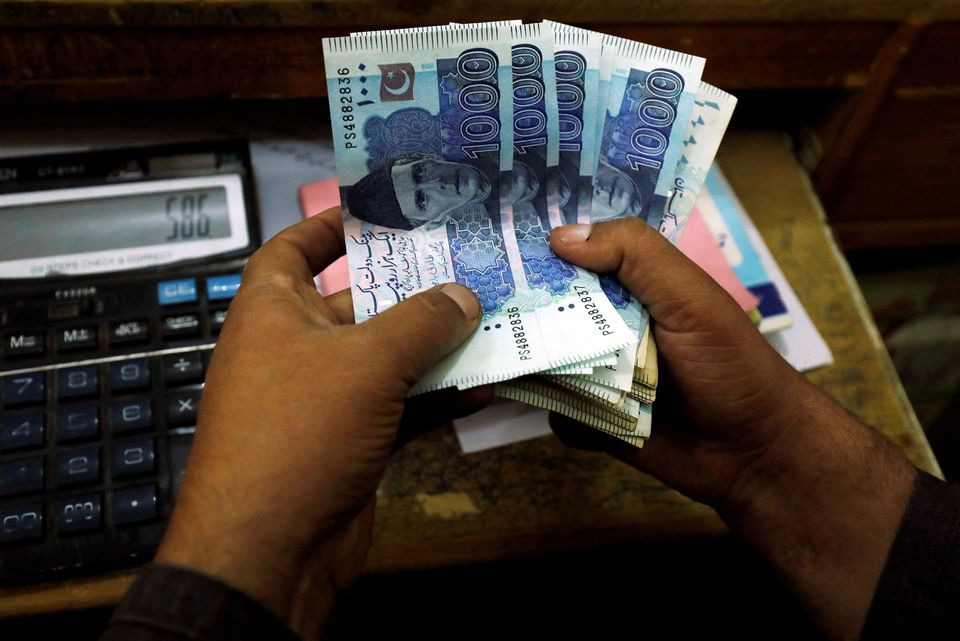 A trader counts Pakistani rupee notes at a currency exchange booth in Peshawar. PHOTO: REUTERS/FILE
---
The odds of Pakistan facing a currency crisis surpassed 50% after devastating floods lashed the country, killing hundreds and displacing millions, a Bloomberg Economics risk model revealed on Tuesday.
According to economist Ankur Shukla, the possibility of a currency crisis involving a large depreciation of the nominal exchange rate and extensive depletion of foreign-exchange rates could rise to approximately 59% in June 2023, compared to 29% in August 2022.
"Crop damage and a host of other problems stemming from the disaster all but erase any progress toward stability that came with the IMF's aid," Shukla stated, adding that progress towards stabilising external balances had been undone by the floods.
Shukla used a currency risk model which initially applied to Pakistan but would be expanded to analyse other emerging markets.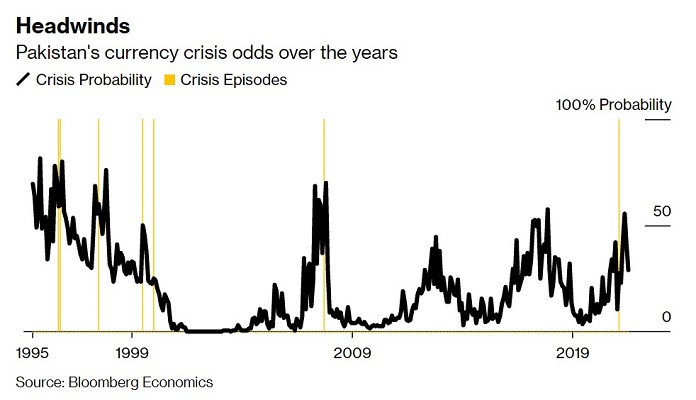 Pakistan secured a $1.1 billion loan from the International Monetary Fund (IMF) in late August to avoid an imminent default, but deadly floods wrought damages of about $30 billion. Islamabad since then has made an urgent appeal for debt relief.
Returning to his former post, Finance Minister Ishaq Dar – a known advocate of a stronger currency – believed that the rupee would strengthen to its fair value which is below Rs 200 per US dollar.
Read How worried should we be about Pakistan's economy?
The Pakistani currency fell almost 20% this year as finances worsened. Pakistan's optimism since the IMF loan faded, with dollar bonds dropping to a record low.
The country observed immense damage to agricultural land and crops and may have to spend $3 billion to buy cotton as small factories shut down due to a shortage. The burden came forth during Pakistan's restrictions on imports as the country makes an effort to reduce its trade deficit.
"Floods will widen the current-account deficit because of higher food imports and a hit to exports", said Shukla.
IMF asked to ease conditions
Amid depleting foreign reserves and rising inflation, Pakistan once again urged the IMF to ease its harsh programme conditions that require the country to further increase electricity prices and taxes on fuel over the next six months in return for the remaining loan of nearly $3 billion.
The reminder was given by FM Ishaq Dar during a virtual meeting with IMF Mission Chief Nathan Porter.
During the first interaction, Porter asked the finance minister about the specifics of any proposal to seek debt rescheduling from the Paris Club to whom Pakistan owes $9.7 billion.
"The finance minister recalled the meeting of Prime Minister Shehbaz Sharif with the IMF managing director during his visit to the US in which the IMF MD vowed to support Pakistan in this difficult situation caused by the flash floods and reconsider the programme conditions," said a statement issued by the finance ministry after the brief virtual meeting.
Source:
The Express Tribune