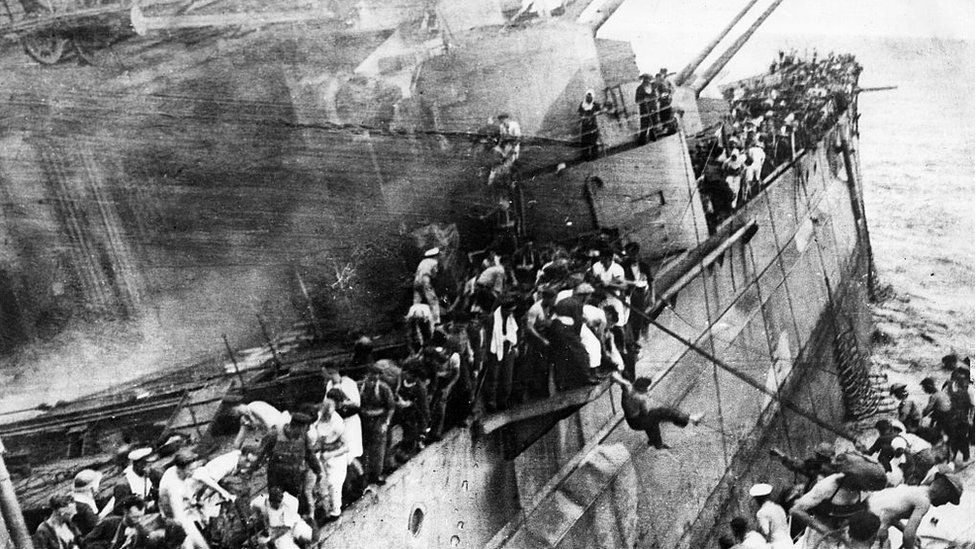 By Damian Grammaticas
Political correspondent
The Ministry of Defence has condemned the "desecration" of maritime military graves after reports scavengers had targeted two World War Two wrecks.
A vessel, thought to be Chinese, has been seen at the site the British ships were sunk, off the coast of Malaysia.
Some 842 British sailors died when the HMS Prince of Wales and the HMS Repulse were torpedoed by Japanese aircraft.
The attack on 10 December 1941 is seen as one of the worst disasters in British naval history.
It took place just three days after the attacks on the US fleet in Pearl Harbour, and two days after Japan invaded South East Asia.
The Prince of Wales was one of the Royal Navy's most important battleships but it, and the battlecruiser HMS Repulse, had been sent to sea without any aircraft to protect them.
The ships are resting on the bed of the South China Sea, 60 miles (100km) off the east coast of Malaysia.
The "grab dredger" seen in pictures supplied to Ms Zain has two large cranes mounted on it and is said to be equipped with metal cutters that can be lowered to the sea floor to shear off and lift sections of steel and aluminium.
Ms Zain told the paper she had alerted both the Malaysian authorities and the British High Commission in Kuala Lumpur about the activities of the dredger.
A spokesperson for the UK Ministry of Defence in London said: "We strongly condemn any desecration of any maritime military grave."
They added: "Where we have evidence of desecration of the wrecks of Royal Navy vessels, we will take appropriate action, including working with regional governments and partners to prevent inappropriate activity at such sites."
It said the vessel had unloaded items recovered from HMS Prince of Wales, including a cannon and old artillery shells, at a private jetty in Malaysia. Police had seized some of the pieces and were now investigating.
In 2017 Ms Zain met the then-Prince Charles when he visited Malaysia and showed him video and still pictures showing how the wreckage of the HMS Prince Charles had already been damaged by scavengers.
Prof Dominic Tweddle, director general of the National Museum of the Royal Navy, this week said: "We are distressed and concerned at the apparent vandalism for personal profit of HMS Prince of Wales and HMS Repulse. They are designated war graves."
The museum said Winston Churchill had, in his memoirs written after the war, recalled the moment he was informed about the sinking of the British ships and the significance of the setback to the allies.
"In all the war, I never received a more direct shock," he said.
"As I turned over and twisted in bed the full horror of the news sank in upon me.
"There were no British or American ships in the Indian Ocean or the Pacific except the American survivors of Pearl Harbour, who were hastening back to California. Across this vast expanse of waters, Japan was supreme, and we everywhere were weak and naked."
BBC