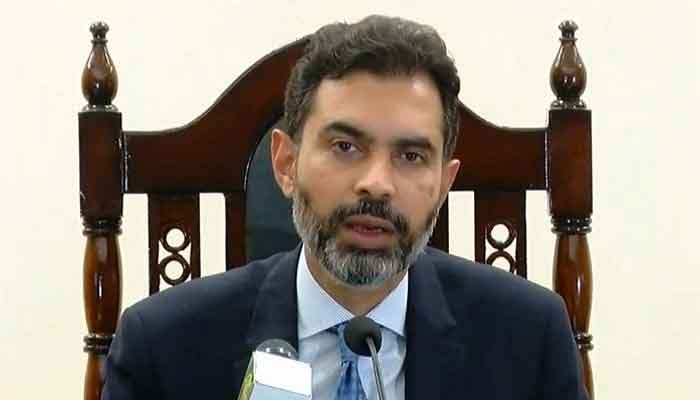 SBP Governor Reza Baqir says Pakistan's growth rate is expected to remain around 5% during current fiscal year. 
Government has taken timely decisions this time, says Baqir. 
Baqir says growth rate expected to remain around 5% this fiscal year. 
---
Governor State Bank of Pakistan (SBP) Reza Baqir Tuesday said that the current account deficit (CAD) is expected to increase for the next two months and will then decrease gradually. 
The SBP governor was speaking to journalist Shahzeb Khanzada on Aaj Shahzeb Khanzada Kay Saath where he delved into Pakistan's economic situation. 
Baqir said Pakistan was not headed towards a situation where the interest rate in the country could surge to 13.52%. The last time Pakistan faced such a situation was when there was a severe financial crisis in the country, when the CAD was around $19bn, he explained. 
Baqir spoke about the coordination between the State Bank and the Finance Division, saying that the two were working in tandem to stabilise Pakistan's financial growth. 
When asked about Pakistan's growth rate, Baqir said he expected it to remain around 5% for the current fiscal year, 2021-22. Expressing optimism over the country's economic situation, the governor of the central bank said Pakistan will not face any difficult economic situation like it did so in the recent past. He said all decisions had been taken on time by the incumbent government. 
Speaking about the coronavirus pandemic, Baqir said the infection affected even the most strongest of economies around the world, such as the US. 
Baqir said the government was worried about Pakistan's low exchange rate, adding that it was causing a price hike in the country. He said the SBP was making joint efforts with the government to arrest fast increasing prices. He said that increase in commodity prices in the international market was unprecedented and against Pakistan's expectations.
The SBP governor admitted that the treasury bill (T-bill) auction on Dec 1 was unnecessary. In that T-bill auction, the government raised over Rs500 billion at a much higher rate than their previous auction in which it accepted much lower bids.
He said the 'Mera Pakistan Mera Ghar' scheme was for those Pakistanis who could not afford to buy a house. The State Bank governor said that for the first time in the country's history, banks were financing housing units for the lower income groups.
Geo News